Beyoncé bate recorde no Grammy 2021; veja todos os indicados e vencedores
Harry Styles e Dua Lipa também se destacaram; os brasileiros Chico Pinheiro e Bebel Gilberto não ganharam nas categorias que foram indicados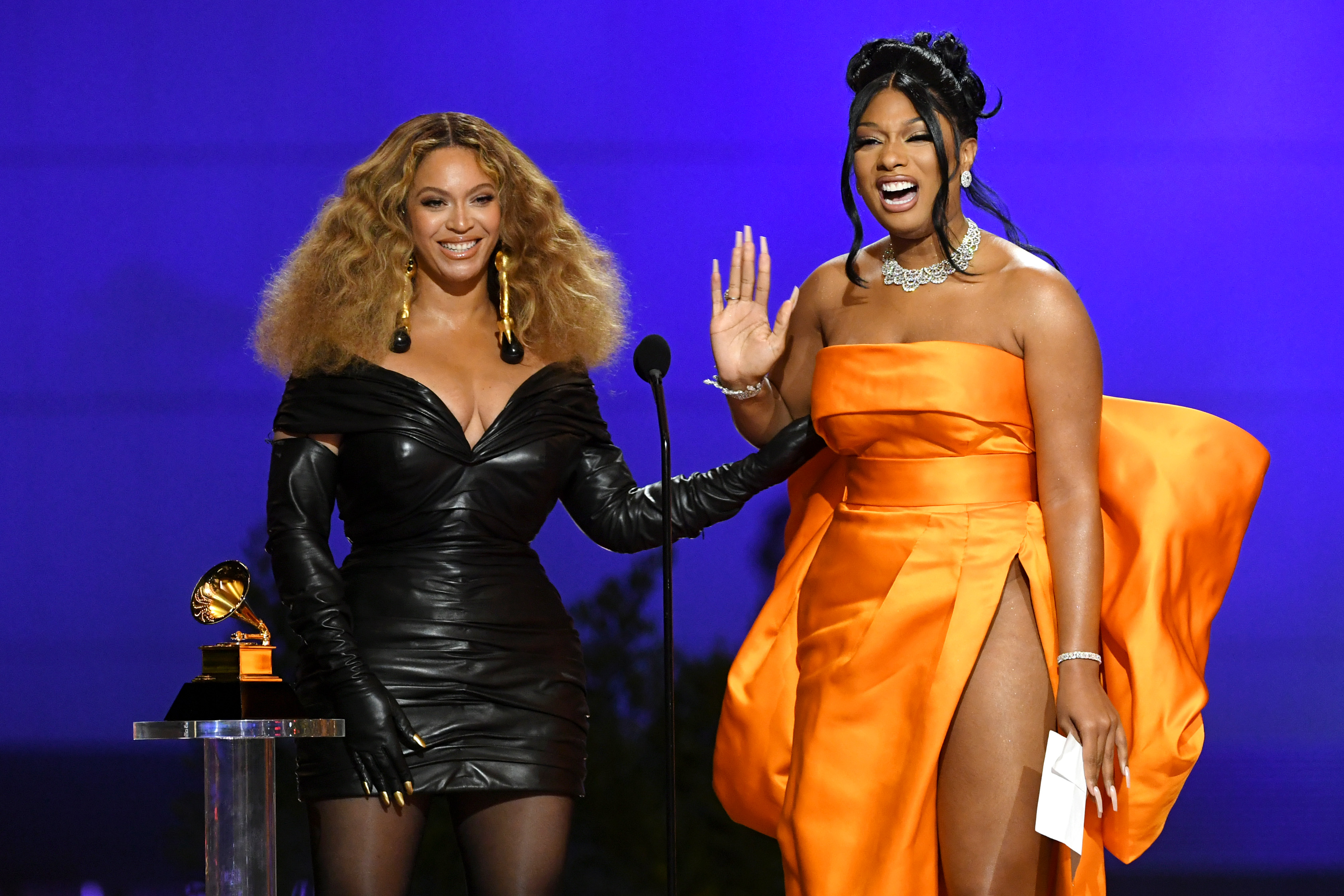 Em um ano atípico, a cerimônia de entrega do Grammy de 2021 foi híbrida, com parte dos indicados presenciais e outra parte virtual. Com menos entregas de prêmios e mais apresentações, a festa foi um tremendo show musical com dezenas de memoráveis shows ao vivos. Alguns dos ganhadores nas 84 categorias do prêmio foram previamente anunciados, liberando espaço para o que importava durante a cerimônia: a música.
Beyoncé, indicada em nove categorias, foi a grande vencedora da noite. Ela ganhou quatro estatuetas e atingiu o número de 28 Grammys, batendo o recorde de Alison Krauss, tornando-se a maior artista feminina a ganhar Grammys. Um deles, na categoria melhor clipe por Brown Skin Girl, foi dividido com a sua filha, Blue Ivy, de 9 anos. Com o prêmio, a menina tornou a segunda artista mais jovem a ganhar a estatueta. Outros dois troféus que Beyoncé ganhou foi o de melhor performance de rap e de música de rap, por Savage, em parceria com Megan Thee Stallion. O quarto troféu veio com o álbum Black Parade, na categoria performance de R&B.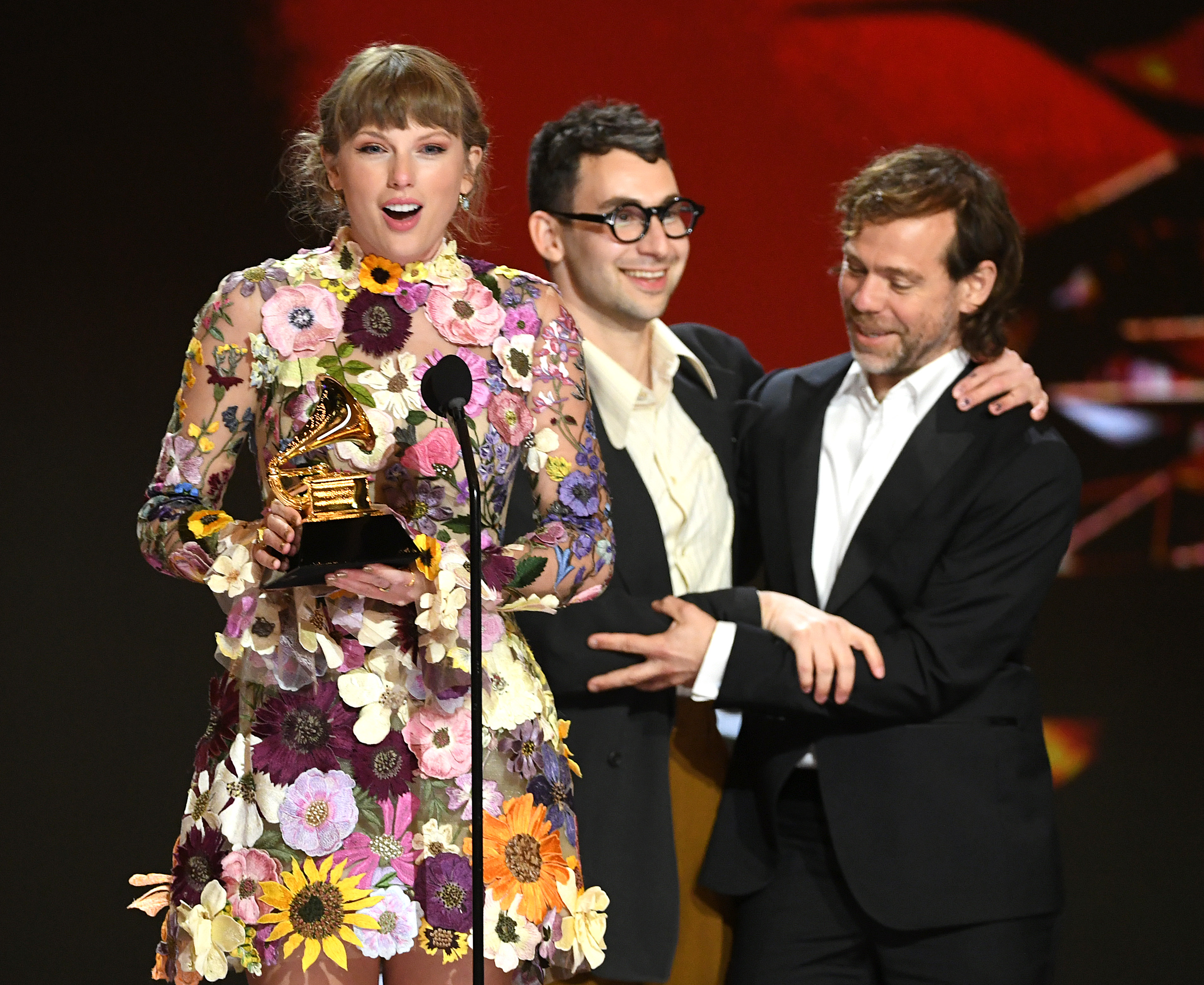 Aliás, Megan Thee Stallion se apresentou dançando com Cardi B a música WAP, que contou com um sample de funk brasileiro do DJ Pedro Sampaio. Infelizmente, o Brasil não brilhou nas categorias em que estava concorrendo. Bebel Gilberto, indicada na categoria álbum de música global, perdeu para o cantor e compositor nigeriano Burna Boy. Já o compositor Chico Pinheiro, indicado na categoria álbum latino de jazz, perdeu para Arturo O'Farrill & The Afro Latin Jazz Orchestra.
Os prêmios mais importantes da noite foram para Taylor Swift, que com Folklore ganhou por álbum do ano, com a produção de Jack Antonoff e Aaron Dessner. E também para Billie Eilish, que venceu a gravação do ano por Everything I Wanted. Billie ficou visivelmente surpresa e não acreditou na vitória. A cantora, então, dedicou o prêmio para Megan Thee Stallion dizendo que era a rapper que merecia ter ganhando. "Penso em você toda a noite, Megan. Você que merecia ter ganhado", disse Billie.
Harry Styles foi outro destaque, surpreendendo ao ganhar na categoria de melhor performance pop solo, desbancando Billie Eilish, Dua Lipa e Taylor Swift. A cantora H.E.R. também se destacou ao desbancar Beyoncé e Taylor Swift na categoria canção do ano, levando o prêmio pela música I Can't Breathe. Fiona Apple, ganhou dois Grammys nas categorias performance de rock e álbum alternativo.
A festa do Grammy contou com um show de abertura de Harry Styles, Billie Eilish e Haim.  Taylor Swift, Dua Lipa e Miranda Lambert também se apresentara na festa, que teve três horas de duração.
Confira a lista dos principais indicados e vencedores:
Álbum do ano
Folklore – Taylor Swift (VENCEDOR)
Chilombo – Jhené Aiko
Black Pumas – Black Pumas
Everyday Life – Coldplay
Djesse Vol. 3 – Jacob Collier
Women in Music Pt. III – Haim
Future Nostalgia – Dua Lipa
Hollywood's Bleeding – Post Malone
Gravação do ano
Everything I Wanted – Billie Eilish (VENCEDOR)
Black Parade – Beyoncé
Colors – Black Pumas
Rockstar – DaBaby featuring Roddy Ricch
Say So – Doja Cat
Don't Start Now – Dua Lipa
Circles – Post Malone
Savage – Megan Thee Stallion feat Beyoncé
Música do ano
I Can't Breathe – H.E.R. (VENCEDOR)
Black Parade – Beyoncé
The Box – Roddy Ricch
Cardigan – Taylor Swift
Circles – Post Malone
Don't Start Now – Dua Lipa
Everything I Wanted – Billie Eilish
If the World Was Ending – JP Saxe featuring Julia Michaels
Revelação
Megan Thee Stallion (VENCEDOR)
Ingrid Andress
Phoebe Bridgers
Chika
Noah Cyrus
D Smoke
Doja Cat
Kaytranada
Performance de rock
Fiona Apple – Shameika (VENCEDOR)
Phoebe Bridgers – Kyoto
Haim – The Steps
Brittany Howard – Stay High
Grace Potter – Daylight
Big Thief – Not
Música de rock
Stay High – Brittany Howard (VENCEDOR)
Kyoto – Phoebe Bridgers
Not – Big Thief
Lost in yesterday – Tame Impala
Shameika – Fiona Apple
Disco de rock
The New Abnormal – The Strokes (VENCEDOR)
A Hero's Death – Fontaines D.C.
Kiwanuka – Michael Kiwanuka
Daylight – Grace Potter
Sound & Fury – Sturgill Simpson
Performance de R&B
Black Parade – Beyoncé (VENCEDOR)
Lightning & Thunder – Jhené Aiko e John Legend
All I Need – Jacob Collier feat. Mahalia and Ty Dolla Sign
Goat Head – Brittany Howard
See Me – Emily King
Performance solo pop
Watermelon Sugar – Harry Styles (VENCEDOR)
Yummy – Justin Bieber
Say So – Doja Cat
Everything I Wanted – Billie Eilish
Don't Start Now – Dua Lipa
Cardigan – Taylor Swift
Performance de grupo ou duo pop
Rain on Me – Lady Gaga e Ariana Grande (VENCEDOR)
Un Dia (One Day) – J Balvin, Dua Lipa, Bad Bunny and Tainy
Intentions – Justin Bieber e Quavo
Dynamite – BTS
Exile – Taylor Swift e Bon Iver
Melhor disco de pop vocal
Future Nostalgia – Dua Lipa (VENCEDORA)
Changes – Justin Bieber
Chromatica – Lady Gaga
Fine Line – Harry Styles
Folklore – Taylor Swift
Melhor canção R&B
Better Than I Imagine – Robert Glasper, H.E.R. e Meshell Ndegeocello (VENCEDOR)
Black Parade – Beyoncé
Collide – Tiana Major9 e Earthgang
Do It – Chloe X Halle
Slow Down – Skip Marley e H.E.R.
Performance de rap
Savage – Megan Thee Stallion e Beyoncé (VENCEDOR)
Deep Reverence – Big Sean e Nipsey Hussle
Bop – DaBaby
What's Poppin – Jack Harlow
The Bigger Picture – Lil Baby
Dior – Pop Smoke
Música de rap
Savage – Megan Thee Stallion e Beyoncé (VENCEDOR)
The Bigger Picture – Lil Baby
The Box – Roddy Ricch
Laugh Now, Cry Later – Drake e Lil Durk
Rockstar – DaBaby e Roddy Ricch
Produtor do ano (não clássico)
Andrew Watt (VENCEDOR)
Jack Antonoff
Dan Auerbach
Dave Cobb
Flying Lotus
Álbum latino pop ou urbano
YHLQMDLG – Bad Bunny (VENCEDOR)
Por Primera Vez – Camilo
Mesa Para Dos – Kany García
Pausa – Ricky Martin
3:33 – Debi Nova
Filme musical
Linda Ronstadt: The Sound of My Voice – Linda Ronstadt (VENCEDOR)
Beastie Boys Story – Beastie Boys
Black Is King – Beyoncé
We Are Freestyle Love Supreme – Freestyle Love Supreme
That Little Ol' Band From Texas – ZZ Top
Vídeo musical
Brown Skin Girl – Beyoncé, Blue Ivy & WizKid (VENCEDOR)
Life is Good – Future feat. Drake
Lockdown – Anderson .Paak
Adore You – Harry Styles
Goliath – Woodkid
Álbum latino de jazz
Four Questions – Arturo O'Farrill & The Afro Latin Jazz Orchestra (VENCEDOR)
Tradiciones – Afro-Peruvian Jazz Orchestra
City of Dreams – Chico Pinheiro
Viento y Tiempo – Live At Blue Note Tokyo – Gonzalo Rubalcaba & Aymée Nuviola
Trane's Delight – Poncho Sanchez
Álbum de música global
Twice As Tall – Burna Boy (VENCEDOR)
Fu Chronicles – Antibalas
Agora – Bebel Gilberto
Love Letters – Anoushka Shankar
Amadjar – Tinariwen
Álbum tradicional de pop vocal
American Standard – James Taylor (VENCEDOR)
Blue Umbrella – Burt Bacharach & Daniel Tashian
True Love: A celebration of Cole Porter – Harry Connick, Jr.
Unfollow The Rulles – Rufus Wainwright
Judy – Renée Zellweger
Continua após a publicidade
Gravação de dance
10 % – Kaytranada Feat. Kali Uchis (VENCEDOR)
On My Mind – Diplo & SIDEPIECE
My High – Disclosure Feat. Aminé & Slowthai
The Difference – Flume Feat. Toro y Moi
Both of Us – Jayda G
Álbum eletrônico/dance

Bubba – Kaytranada (VENCEDOR)
Kick I – Arca
Planet's Mad – Baauer
Energy – Disclosure
Good Faith – Madeon
Álbum instrumental contemporâneo
Live at The Royal Albert Hall – Snarky Puppy (VENCEDOR)
AXIOM – Christian Scott aTunde Adjuah
Chronology of a Dream: Live at the Village Vanguard – Jon Batiste
Take The Staris – Black Violin
Americana – Grégoire Maret, Romain Collin & Bill Frisell
Performance de Metal
Bum-Rush – Body Count (VENCEDOR)
Underneath – Code Orange
The In-Between – In This Moment
Bloodmoney – Poppy
Executioner's Tax (Swing of the Axe) – Ao Vivo – Power Trip
Álbum de música alternativa
Fetch the Bolt Cutter – Fiona Apple (VENCEDOR)
Hyperspace – Beck
Punisher – Phoebe Bridgers
Jaime – Brittany Howard
The Slow Rush – Tame Impala
Performance de R&B tradicional
Anything for You – Ledisi (VENCEDOR)
Sit on Down – The Baylor Project Featuring Jean Baylor & Marcus Baylor
Wonder What She Thinks of Me – Chloe X Halle
Let me Go – Mykal Kilgore
Distance – Yebba
Álbum de R&B progressivo
It is what it is – Thundercat (VENCEDOR)
Chilombo – Jhené Aiko
Ungodly Hour – Chloe X Halle
Free Nationals – Free Nationals
F*** yo Feelings – Robert Glasper
Álbum R&B
Bigger Love – John Legend (VENCEDOR)
Happy 2 be Here – Ant Clemons
Take Time – Giveon
To Feel Love/D – Luke James
All Rise – Gregory Porter
Performance de rap melódico
Lockdown – Anderson .Paak (VENCEDOR)
Rockstar – DaBaby Featuring Roddy Ricch
Laugh Now Cry Later – Drake Feat. Lil Durk
The Box – Roddy Ricch
Highest in The Room – Travis Scott
Álbum de Rap
King's Disease – Nas (VENCEDOR)
Black Habits – D Smoke
Alfredo – Freddie Gibbs & The Alchemist
A Written Testimony – Jay Electronica
The Allegory – Royce 5'9″
Performance country solo
When My Amy Prays – Vince Gill (VENCEDOR)
Stick That In Your Country Song – Eric Church
Who You Thought I Was – Brandy Clark
Black Like Me – Mickey Guyton
Bluebird – Miranda Lambert
Performance country duo/grupo
10,000 Hours – Dan + Shay & Justin Bieber (VENCEDOR)
All Night – Brothers Osborne
Ocean – Lady A
Sugar Coat – Little Big Town
Some People Do – Old Dominio
Música country
Crowded Table – The Highwomen (VENCEDOR)
Bluebird – Mirnda Lambert
The Bone – Maren Morris
More Hearts Than Mine – Ingrid Andress
Some People Do – Old Dominio
Álbum Country
Wildcard – Miranda Lambert (VENCEDOR)
Lady Like – Ingrid Andress
Your Life is a Record – Brandy Clark
Nightfall – Little Big Town
Never Will – Ashley McBryde
Álbum New Age
More Guitar Stories – Jim "Kimo" West (VENCEDOR)
Songs from the bardo – Laurie Anderson, Tenzin Choegyal & Jesse Paris Smith
Periphery – Priya Darshini
Form//Less – Superposition
Meditations – Cory Wong & Jon Batiste
Improviso de jazz solo
All Blues – Chick Corea – solista (VENCEDOR)
Guinnevere – Christian Scott aTunde Adjuah, solista
Pachamama – Regina Carter – solista
Celia – Gerald Clayton – solista
Moe Honk – Joshua Redman – solista
Álbum vocal de jazz
Secrets are the best stories – Kurt Elling Feat. Danilo Pérez (VENCEDOR)
Ona – Thana Alexa
Modern Ancestor – Carmen Lundy
Holy Room: Live at Alte Oper -Somi With Frankfurt Radio Big Band Conducted By John Beasley
What's The Hurry – Kenny Washington
Álbum de Jazz Instrumental
Trilogy 2 – Chick Corea, Christian McBride & Brian Blade (VENCEDOR)
On the tender spot of every calloused moment – Ambrose Akinmusire
Waiting Game – Terri Lyne Carrington + Social Science
Happening: Live at the Village Vanguard – Gerald Clayton
Roundagain – Redman Mehldau McBride Blade
Album para grande ensemble de jazz
Data Lords – Maria Schneider Orchestra (VENCEDOR)
Dialogues on Race – Gregg August
Monk'estra plays John Beasley – John Beasley's MONK'estra
The Intangible Between – Orrin Evans And The Captain Black Big Band
Songs You Like a Lot – John Hollenbeck With Theo Bleckmann, Kate McGarry, Gary Versace And The Frankfurt Radio Big Band
Performance/música gospel
Movin'on – Jonathan McReynolds & Mali Music (VENCEDOR)
Wonderful is Your Name – Melvin Crispell III
Release (Live) – Ricky Dillard Featuring Tiff Joy; David Frazier
Come Together – Rodney "Darkchild" Jerkins Present: The Good News
Won't Let Go – Travis Greene
Performance/música cristã contemporânea
There Was Jesus – Zach Williams & Dolly Parton (VENCEDOR)
The blessing (live) – Kari Jobe, Cody Carnes & Elevation Worship
Sunday Morning – Lecrae Feat. Kirk Franklin
Holy Water – We The Kingdom
Famour For (I Believe) – Tauren Wells Featuring Jenn Johnson
Álbum Gospel
Gospel According to PJ – PJ Morton (VENCEDOR)
2econd Wind: ready – Anthony Brown & group therAPy
My Tribute – Myron Butler
Choirmaster – Ricky Dillard
Kierra – Kierra Sheard
Álbum cristão contemporâneo
Jesus is King – Kanye West (VENCEDOR)
Run to the Father – Cody Carnes
All of my best friends – Hillsong Young & Free
Holy Water – We The Kingdom
Citizen Of Heaven – Tauren Well
Álbum de rock latino ou alternativo
La Conquista del Espacio – Fito Paez – (VENCEDOR)
Aura – Bajofondo
Monstruo – Cami
Sobrevolando – Cultura Profética
Miss Colombia – Lido Pimienta
Performance raízes americanas
I Remember Everything – John Prine (VENCEDOR)
Colors – Black Pumas
Deep in Love – Bonny Light Horseman
Short And Sweet – Brittany Howard
I'll Be Gone – Norah Jones & Mavis Staples
Álbum de blues tradicional
Rawer Than Raw – Bobby Rush (VENCEDOR)
All my dues are paid – Frank Bey
You Make me Fell – Don Bryant
That's What I Heard – Robert Cray Band
Cypress Grove – Jimmy Duck Holmes
Álbum de blues contemporâneo
Have you lost your mind yet? – Fantastic Negrito (VENCEDOR)
Live at the Paramount – Ruthie Foster Big Band
The Juice – G. Love
Blackbirds – Bettye LaVette
Up and Rolling – North Mississipi Allstars
Continua após a publicidade