Indicados ao Emmy 2014 – Séries e Minisséries
Esta manhã a Academy of Television Arts & Sciences anunciou os indicados ao prêmio Emmy deste ano. O anúncio foi feito pela atriz e roteirista Mindy Kaling (The Mindy Project) e pelo produtor e apresentador Carson Daly (The Voice). O Netflix disputa o prêmio com duas séries: House of Cards e Orange is the New Black, que receberam no total 25 […]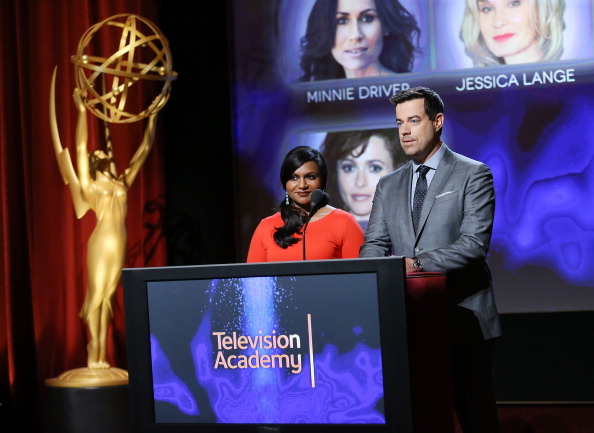 Esta manhã a Academy of Television Arts & Sciences anunciou os indicados ao prêmio Emmy deste ano. O anúncio foi feito pela atriz e roteirista Mindy Kaling (The Mindy Project) e pelo produtor e apresentador Carson Daly (The Voice).
O Netflix disputa o prêmio com duas séries: House of Cards e Orange is the New Black, que receberam no total 25 indicações. Isto consolida a presença das produções para site de streamings na cerimônia de entrega do prêmio. Entre as duas, Orange is the New Black tem melhores chances de levar o prêmio de melhor série. Se isto ocorrer, a Academia de Televisão estará abrindo as portas para a produção original de site de streamings.
Graças aos prêmios técnicos, a série Game of Thrones lidera o número de indicações deste ano, com um total de dezenove. Em seguida vem Fargo (18), American Horror Story (17), Breaking Bad (16) e o telefilme The Normal Heart (16), o favorito em sua categoria. Já Downton Abbey, a grande paixão dos membros votantes da Academia, recebeu um total de doze indicações. Apesar da queda de qualidade dos roteiros, ela continua aparecendo entre os indicados a Melhor Série Dramática, tirando o lugar de outras produções.
Enquanto isso, depois de desbancar Mad Men tirando-lhe a oportunidade de ganhar cinco Emmy seguidos, a série Homeland desaparece da lista de indicados a Melhor Série Dramática. Demorou para ela sair da lista, mas a ausência é justificada, tendo em vista a baixa qualidade que a série vem apresentando desde a segunda temporada. Em seu lugar entra True Detective, que ameaça o favoritismo de Breaking Bad.
Uma das melhores produções da HBO nos últimos anos, Treme aparece na categoria Minissérie por ter oferecido em sua última temporada um número reduzido de episódios. Dificilmente ela conseguirá derrubar o favoritismo de Fargo, muito mais popular, mas já considero uma vitória a presença de Treme entre os indicados após anos sendo ostensivamente ignorada pela Academia.
Nos EUA, a cerimônia de entrega do prêmio será exibida pela rede NBC. No Brasil, ela será transmitida pelo canal a cabo Warner, no dia 25 de agosto, ao vivo. Os prêmios para as categorias técnicas (que nos EUA são conhecidas como creative arts) serão entregues em uma cerimônia anterior, que será realizada no dia 16 de agosto.
Disputam o Emmy programas que foram exibidos entre os dias 1º de junho de 2013 e 31 de maio de 2014. Confiram as produções e profissionais que se inscreveram.
Lista dos indicados nas categorias séries e minisséries (vejam aqui por quais episódios séries e atores disputam o prêmio):
Série Dramática
Breaking Bad – AMC
Downton Abbey – ITV/PBS
Game of Thrones – HBO
House of Cards – Netflix
Mad Men – AMC
True Detective – HBO
Série Cômica
The Big Bang Theory – CBS
Louie – FX
Modern Family – ABC
Orange is the New Black – Netflix
Silicon Valley – HBO
Veep – HBO
Minissérie 
American Horror Story: Coven – FX
Bonnie & Clyde – Lifetime
Fargo – FX
Luther – BBC/BBC America
Treme – HBO
The White Queen – BBC/Starz
Telefilme
Killing Kennedy – National Geographic Channel
Muhammad Ali's Greatest Fight – HBO
The Normal Heart – HBO
Sherlock: His Last Vow – Episódio de longa duração de série britânica – BBC/PBS
The Trip To Bountiful – Lifetime
Ator de Série Dramática
Bryan Cranston por Breaking Bad – AMC
Jeff Daniels por The Newsroom – HBO
Jon Hamm por Mad Men – AMC
Woody Harrelson por True Detective – HBO
Matthew McConaughey por True Detective – HBO
Kevin Spacey por House of Cards – Netflix
Ator de Série Cômica
Don Cheadle por House of Lies – Showtime
Louis CK por Louie – FX
Ricky Gervais por Derek – Channel 4/Netflix
Matt LeBlanc por Episodes – Showtime
William H Macy por Shameless – Showtime
Jim Parsons por The Big Bang Theory – CBS
Ator de Minissérie ou Telefilme
Chiwetel Ejiofor por Dancing on the Edge – BBC/Starz
Martin Freeman por Fargo – FX
Billy Bob Thorton por Fargo – FX
Idris Elba por Luther – BBC/BBC America
Benedict Cumberbatch por Sherlock – BBC/PBS
Mark Ruffalo por The Normal Heart – Telefilme – HBO
Atriz de Série Dramática
Lizzy Kaplan por Masters of Sex – Showtime
Claire Danes por Homeland – Showtime
Michelle Dockery por Downton Abbey – ITV/PBS
Julianna Margulies por The Good Wife – CBS
Kerry Washington por Scandal – ABC
Robin Wright por House of Cards – Netflix
Atriz de Série Cômica
Lena Dunham por Girls – HBO
Edie Falco por Nurse Jackie – Showtime
Julia Louis-Dreyfus por Veep – HBO
Melissa McCarthy por Mike & Molly – CBS
Amy Poehler por Parks and Recreation – NBC
Taylor Schilling por Orange Is the New Black – Netflix
Atriz em Minissérie ou Telefilme
Jessica Lange por American Horror Story – FX
Sarah Paulson por American Horror Story – FX
Helena Bonham Carter por Burton and Taylor – Telefilme – BBC/BBC America
Minnie Driver por Return to Zero – Telefilme – Lifetime
Kristen Wiig por The Spoils of Babylon – IFC
Cicely Tyson por The Trip to Bountiful – Telefilme – Lifetime
Ator Coadjuvante em Série Dramática
Aaron Paul por Breaking Bad – AMC
Jim Carter por Downton Abbey – ITV/PBS
Peter Dinklage por Game of Thrones – HBO
Mandy Patinkin por Homeland – Showtime
Jon Voight por Ray Donovan – Showtime
Josh Charles por The Good Wife – CBS
Ator Coadjuvante em Minissérie ou Telefilme
Colin Hanks por Fargo – FX
Martin Freeman por Sherlock – BBC/PBS
Jim Parsons por The Normal Heart – Telefilme – HBO
Joe Mantello por The Normal Heart – Telefilme – HBO
Alfred Molina por The Normal Heart – Telefilme – HBO
Matt Bomer por The Normal Heart – Telefilme – HBO
Ator Coadjuvante em Série Cômica
Andre Braugher por Brooklyn Nine-Nine – Fox
Adam Driver por Girls – HBO
Ty Burrell por Modern Family – ABC
Jesse Tyler Ferguson por Modern Family – ABC
Fred Armisen por Protlandia – IFC
Tony Hale por Veep – HBO
Ator Convidado em Série Dramática
Paul Giamatti por Downton Abbey – ITV/PBS
Reg E. Cathey por House of Cards – Netflix
Robert Morse por Mad Men – AMC
Beau Bridges por Masters of Sex – Showtime
Joe Morton por Scandal – ABC
Dylan Baker por The Good Wife – CBS
Ator Convidado em Série Cômica
Nathan Lane por Modern Family – ABC
Steve Buscemi por Portlandia – IFC
Jimmy Fallon por Saturday Night Live – NBC
Louis C.K. por Saturday Night Live – NBC
Bob Newhart por The Big Bang Theory – CBS
Gary Cole por Veep – HBO
Atriz Coadjuvante em Série Dramática
Anna Gunn por Breaking Bad – AMC
Maggie Smith por Downton Abbey – ITV/PBS
Joanne Froggatt por Downton Abbey – ITV/PBS
Lena Headey por Game of Thrones – HBO
Christina Hendricks por Mad Men – AMC
Christine Baranski por The Good Wife – CBS
Atriz Coadjuvante em Série Cômica
Julie Bowen por Modern Family – ABC
Allison Janney por Mom – CBS
Kate Mulgrew por Orange is the New Black – Netflix
Kate McKinnon por Saturday Night Live – NBC
Mayim Bialik por The Big Bang Theory – CBS
Anna Chlumsky por Veep – HBO
Atriz Coadjuvante em Minissérie ou Telefilme
Frances Conroy por American Horror Story – FX
Kathy Bates por American Horror Story – FX
Angela Bassett por American Horror Story – FX
Allison Tolman por Fargo – FX
Ellen Burstyn por Flowers in the Attic – Telefilme – Lifetime
Julia Roberts por The Normal Heart – Telefilme – HBO
Atriz Convidada em Série Dramática
Diane Rigg por Game of Thrones – HBO
Kate Mara por House of Cards – Netflix
Allison Janney por Masters of Sex – Showtime
Kate Burton por Scandal – ABC
Margo Martindale por The Americans – FX
Jane Fonda por The Newsroom – HBO
Atriz Convidada em Série Cômica
Uzo Aduba por Orange is the New Black – Netflix
Laverne Cox por Organe is the New Black – Netflix
Natasha Lyonne por Orange is the New Black – Netflix
Tina Fey por Saturday Night Live – NBC
Melissa McCarthy por Saturday Night Live – NBC
Joan Cusack por Shameless – Shwotime
Roteiro – Série Dramática
Breaking Bad – Eps. Ozymandias – AMC
Breaking Bad – Eps. Felina – AMC
Game Of Thrones – Eps. The Children – HBO
House Of Cards – Episódio 4 – Netflix
True Detective – Eps. The Secret Fate Of All Of Life – HBO
Roteiro – Série Cômica
Episodes – Episódio 3×5 – Showtime
Louie – Eps. So Did The Fat Lady – FX
Orange Is The New Black – Eps. I Wasn't Ready – Netflix
Silicon Valley – Eps. Optimal Tip-To-Tip Efficiency – HBO
Veep – Eps. Special Relationship – HBO
Roteiro – Minissérie, Telefilme ou Especial
American Horror Story: Coven – Eps. Bitchcraft – FX Networks
Fargo – Eps. The Crocodile's Dilemma – FX
Luther – BBC/BBC America
The Normal Heart – Telefilme – HBO
Sherlock – His Last Vow – BBC/PBS
Treme – Eps. …To Miss New Orleans – HBO
Direção – Série Dramática
Boardwalk Empire – Eps. Farewell Daddy Blues – HBO
Breaking Bad – Eps. Felina – AMC
Downton Abbey – Episódio 1 – ITV/PBS
Game Of Thrones – Eps. The Watchers On The Wall – HBO
House Of Cards – Episódio 14 – Netflix
True Detective – Eps. Who Goes There – HBO
Direção – Série Cômica
Episodes – Episódio 3×9 – Showtime
Glee – Episódio 100 – FOX
Louie – Eps. Elevator – Parte 6 – FX
Modern Family – Eps. Vegas – ABC
Orange Is The New Black – Eps. Lesbian Request Denied – Netflix
Silicon Valley – Eps. Minimum Viable Product – HBO
Direção – Minissérie, Telefilme ou Especial
American Horror Story: Coven – Eps. Bitchcraft – FX
Fargo – Eps. The Crocodile's Dilemma – FX
Fargo – Eps. Buridan's Ass – FX
Muhammad Ali's Greatest Fight – Telefilme – HBO
The Normal Heart – Telefilme – HBO
Sherlock – Eps. His Last Vow – BBC/PBS
Elenco de Série Dramática
Breaking Bad – AMC
Game Of Thrones – HBO
The Good Wife – CBS
House Of Cards – Netflix
True Detective – HBO
Sherlock – BBC/PBS
Treme – HBO
Elenco de Série Cômica
Louie – FX
Modern Family – ABC
Nurse Jackie – Showtime
Orange Is The New Black – Netflix
Veep – HBO
Continua após a publicidade
Elenco de Minissérie ou Telefilme
American Horror Story – FX
Fargo – FX
Sherlock: The Last Vow – BBC/PBS
The Normal Heart – Telefilme – HBO
Treme – HBO
Série Infanto-Juvenil
Degrassi – Nickelodeon
Dog With a Blog – Disney Channel
Good Luck Charlie – Disney Channel
Nick News with Linda Ellerbee – Family Secrets: When Violence Hits Home – Nickelodeon
One Last Hug: Three Days at Grief Camp – Especial – HBO
Wynton Marsalis: A Young Arts Masterclass – Especial – HBO
Série Animada
Archer – FX
Bob's Burgers – Fox
Futurama – Fox
South Park – Comedy Central
Teenage Mutant Ninja Turtles: The Manhattan Project – Nickelodeon
Série Animada – Curta Duração
Adventure Time – Cartoon Network
Disney Mickey Mouse – Disney Channel
Disney Phineas and Ferb – Disney Channel
Regular Show – Cartoon Network
Robot Chicken – Cartoon Network
Dublagem e Narração
Chris Diamantopolous por Disney Mickey Mouse – Disney Channel
Stephen Full por Dog With A Blog – Eps. My Parents Posted What?! – Disney Channel
Seth MacFarlane por Family Guy – Ep.s In Harmony's Way – Fox
Maurice LaMarche por Futurama – Eps. Calculon 2.0 – Comedy Central
Seth Green por Robot Chicken – Eps. DC Comics Special II: Villains In Paradise – Cartoon Network
Harry Shearer por Os Simpsons – Eps. Four Regrettings And A Funeral – FOX
Direção de Arte – Séries Contemporâneas ou de Fantasia – Single Camera
Game Of Thrones – Eps. The Laws Of Gods And Men e The Mountain And The Viper – HBO
House Of Cards – Episódios 18 e 24 – Netflix
Justified – Eps. A Murder Of Crowes, Wrong Roads e The Toll – FX
True Blood – Eps. At Last, F**k The Pain Away e In The Evening
True Detective – Eps. Form And Void e The Locked Room e Seeing Things – HBO
Diretor de Arte – Séries de Época, Minisséries ou Telefilmes – Câmera Única
American Horror Story: Coven – FX
Boardwalk Empire – Eps. Erlkönig, The Old Ship Of Zion e Farewell Daddy Blu – HBO
Downton Abbey – Episódio 8 – ITV/PBS
Mad Men – Eps. Time Zones – AMC
Masters Of Sex – Episódio piloto – Showtime
Direção de Arte – Comédias
The Big Bang Theory – Eps. The Hofstadter Insufficiency, The Locomotive Manipulation e The Proton Transmogrification- CBS
House Of Lies – Eps. Wreckage, Middlegame e Zhang- Showtime
Modern Family – Eps. Las Vegas – ABC
Silicon Valley – Eps. Articles Of Incorporation, Signaling Risk e Optimal Tip-To-Tip Efficiency – HBO
Veep – Eps. Clovis e Detroit – HBO
Direção de Fotografia – Multicâmera
The Exes – Eps. When Haskell Met Samm – TV Land
How I Met Your Mother – Eps. Daisy – CBS
Last Man Standing – Eps. Eve's Boyfriend – ABC
Mike & Molly – Eps. Weekend at Peggy's – CBS
2 Broke Girls – Eps. And The Near Death Experien – CBS
Diretor de Fotografia – Single Camera
Breaking Bad – Eps. Granite State – AMC
Game Of Thrones – Eps. Two Swords – HBO
Game of Thrones – Eps. The Lion and the Rose – HBO
Homeland – Eps. The Star – Showtime
House Of Cards – Episódio 18 – Netflix
True Detective – Eps. Who Goes There – HBO
Diretor de Fotografia de Minissérie ou Telefilme
Fargo – Eps. Buridan's Ass – FX
Fargo – Eps. The Crocodile's Dilema – FX
Fleming: The Man Who Would Be Bond – Episódio 1 – Sky Atlantic/BBC America
Killing Kennedy – Telefilme – National Geographic
Sherlock: His Last Vow – BBC/PBS
The Normal Heart – Telefilme – HBO
Figurino
Boardwalk Empire – Eps. New York Sour – HBO
Downton Abbey – Episódio 8 – ITV/PBS
Game Of Thrones – Eps. The Lion And The Rose – HBO
Mad Men – Eps. Time Zones – AMC
Once Upon A Time – Eps. A Curious Thing – ABC
Figurino – Minissérie, Telefilme ou Especial
American Horror Story: Coven – Eps. Bitchcraft – FX
House Of Versace – Telefilme – Lifetime
The Normal Heart – Telefilme – HBO
Sherlock: His Last Vow – BBC/PBS
The White Queen – Eps. The Price Of Power – BBC/Starz
Edição – Série Dramática – Single Camera
Breaking Bad – Eps. Tohajillee – AMC
Breaking Bad – Eps. Felina – AMC
Breaking Bad – Granite State – AMC
House Of Cards – Episódio 14 – Netflix
True Detective – Eps. Who Goes There – HBO
Edição – Série Cômica – Single Camera
Modern Family – Eps. Vegas – ABC
Orange Is The New Black – Eps. Tit Punch – Netflix
Orange Is The New Black – Eps. Can't Fix Crazy – Netflix
Orange Is The New Black – Eps. Tall Men With Feelings – Netflix
Portlandia – Eps. Getting Away – IFC
Edição – Série Cômica – Multicâmera
The Big Bang Theory – Eps. The Cooper Extraction – CBS
The Colbert Report – Eps. 9115 – Humorístico – Comedy Central
The Daily Show With Jon Stewart – Eps. 19006 – Talk Show – Comedy Central
How I Met Your Mother – Eps. Gary Blauman – CBS
Jimmy Kimmel Live – Eps. Behind The Scandelabra – Humorístico – ABC
Edição – Minissérie ou Telefilme
Fargo – Eps. The Crocodile's Dilemma – FX
Fargo – Eps. The Rooster Prince – FX
Fargo – Eps. Buridan's Ass – FX
The Normal Heart – Telefilme – HBO
Sherlock: His Last Vow – BBC/PBS
Penteado – Single Camera
Boardwalk Empire – Eps. William Wilson – HBO
Downton Abbey – Episódio 8 – ITV/PBS
Game Of Thrones – Eps. The Lion and the Rose – HBO
Mad Men – Eps. The Runaways – AMC
Penteado – Multicâmera
Dancing With The Stars – Eps 1805 – Reality – ABC
Key & Peele – Eps. Substitute Teacher – Comedy Central
The Originals – EPs. Dance Back From The Grave – CW
The Oscars – Cerimônia de entrega do prêmio – ABC
Saturday Night Live – Eps. apresentado por Anna Kendrick – NBC
The Voice – Eps. 419B – NBC
Penteado Minissérie ou Telefilme
American Horror Story: Coven – FX
Bonnie & Clyde – Lifetime
Mob City – Eps. A Guy Walks Into a Bar – TNT
The Normal Heart – HBO
The White Queen – Eps. Long Live the King – BBC/Starz
Sequência de Abertura – Design
Black Sails – Starz
COSMOS: A SpaceTime Odyssey – FOX/NatGeo
Masters Of Sex – Showtime
Silicon Valley – HBO
True Detective – HBO
Maquiagem – Single Camera – Sem Prótese
Boardwalk Empire – Eps. New York Sour – HBO
Breaking Bad – Eps. Ozymandias – AMC
Game Of Thrones – Eps. Oathkeeper – HBO
Mad Men – Eps. The Runaways – AMC
True Detective – Eps. The Secret Fate Of All Of Life – HBO
Maquiagem – Minissérie ou Telefilme – Sem Prótese
American Horror Story: Coven – FX Networks
Anna Nicole – Lifetime
Bonnie & Clyde – Lifetime
Fargo – FX
The Normal Heart – HBO
Maquiagem – Minissérie ou Telefilme – Com Prótese
American Horror Story: Coven – FX
Anna Nicole – Lifetime
Boardwalk Empire – Eps. William Wilson – HBO
Breaking Bad – Eps. Felina – AMC
Game Of Thrones – Eps. The Children – HBO
The Normal Heart – Telefilme – HBO
Trilha Musical – Composição Original – Séries
COSMOS: A SpaceTime Odyssey – Eps. Standing Up In The Milky Way – FOX/NatGeo
Downton Abbey – Episódio 8 – ITV/PBS
Game Of Thrones – Eps. The Mountain and the Viper – HBO
House Of Cards – Episódio 26 – Netfix.
True Detective – Eps. Form and Void – HBO
Trilha Musical – Composição Original – Minisséries, Telefilmes ou Especiais
American Horror Story: Coven – Eps. The Seven Wonders – FX
Clear History – Telefilme – HBO
Fargo – Eps. The Crocodile's Dilemma – FX
Sherlock: His Last Vow – BBC/PBS
The White Queen – Eps. The Final Battle – Starz
Canção Original
A Christmas Carol – The Concert – Música: No Trouble – PBS
Key & Peele – Eps. Substitute Teacher #3 – Música: Les Mis – Comedy Central
Saturday Night Live – Episódio apresentado por Jimmy Fallon – Música: Home For The Holiday (Twin Bed) – NBC
Sofia The First: The Floating Palace – Música: Merroway Cove – Disney Channel
Sons Of Anarchy – Eps. A Mother's Work – Música: Day Is Gone – FX
67th Annual Tony Awards – Música: Bigger! – CBS
Tema de Abertura
Black Sails – Starz
COSMOS: A SpaceTime Odyssey – FOX/NatGeo
Magic City – Starz
Sleepy Hollow – FOX
The Spoils Of Babylon – IFC
Edição de Som – Série de TV
Black Sails – Eps. I. – Starz
Boardwalk Empire – Eps. White Horse Pike – HBO
Breaking Bad – Eps. Felina – AMC
Game Of Thrones – Eps. The Watchers On The Wall – HBO
The Walking Dead – Eps. Too Far Gone – AMC
Edição de Som – Minissérie, Telefilme ou Especial
American Horror Story: Coven – Eps. Fearful Pranks Ensue – FX
Bonnie & Clyde – Eps. Night Two – Lifetime
Fargo – Eps. The Crocodile's Dilemma – FX
Klondike – Episódio 1 – Discovery Channel
Mob City – Eps. Oxpecker & Stay Down – TNT
Sherlock: His Last Vow – BBC/PBS
Mixagem de Som – Série Dramática
Breaking Bad – Eps. Felina – AMC
Downton Abbey – Episódio 8 – ITV/PBS
Game Of Thrones – Eps. The Watchers On The Wall – HBO
Homeland – Eps. Good Night – Showtime
House Of Cards – Episódio 14 – Netflix
Mixagem de Som – Minissérie ou Telefilme
American Horror Story: Coven – Eps. Fearful Pranks Ensue – FX
Fargo – Eps. The Crocodile's Dilemma – FX
Killing Kennedy – Telefilme – National Geographic Channel
Sherlock: His Last Vow – BBC/PBS
Treme – Eps. Sunset On Louisianne – HBO
Mixagem de Som – Série Cômica ou Dramática – Meia-Hora
Californication – Eps. Kickoff – Showtime
Modern Family – Eps. The Wedding, Part 1 – ABC
Nurse Jackie – Eps. The Lady With The Lamp – Showtime
The Simpsons – Eps. Married To The Blob – FOX
Veep – Eps. Detroit – HBO
Efeitos Visuais
Almost Human – Episódio Piloto – Fox
COSMOS: A SpaceTime Odyssey – Eps. The Immortals – FOX/NatGeo
Game Of Thrones – Eps. The Children – HBO
The 100 – Eps. We Are Grounders, Part 2 – CW
Marvel's Agents of S.H.I.E.L.D. – Eps. T.A.H.I.T.I. – ABC
Efeitos Visuais de Apoio
Black Sails – Eps. I. – Starz
Da Vinci's Demons – Eps. The Sins of Daedalus – Starz
Hawaii Five-0 – Eps. Ho'onani Makuakane – CBS
Mob City – Eps. A Guy Walks Into a Bar – TNT
Vikings – Eps. Invasion – History Channel
The Walking Dead – Eps. 30 Days Without An Accident – AMC
Equipe de Dublês – Série Dramática
The Blacklist – NBC
Game Of Thrones – HBO
Grimm – NBC
Hawaii Five-0 – CBS
Revolution – NBC
True Blood – HBO
Equipe de Dublês – Série Cômica ou Programa de Variedades
Brooklyn Nine-Nine – FOX
Community – NBC
It's Always Sunny In Philadelphia – FX
Sam & Cat – Nickelodeon
Shameless – Showtime
Direção Técnica e de Controle de câmera de vídeo
The Big Bang Theory – Eps. The Locomotive Manipulation – CBS
The Daily Show With Jon Stewart – Episódio 18153 – Comedy Central
Dancing With The Stars – Episódio 1711A – ABC
Jimmy Kimmel Live – Eps. In Austin – ABC
Saturday Night Live – Episódio apresentado por Jimmy Fallon – NBC
The Voice – Episódio 519A – NBC
Continua após a publicidade